Fit for the Future – our commitment to sustainability
Fit for the Future – our commitment to sustainability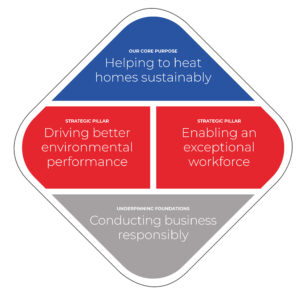 Our strategy is aligned with, and depends upon, the responsible treatment of all stakeholders and the natural environment.
Focusing on the material issues for Stelrad and its stakeholders, our Fit for the Future sustainability framework represents an evolution of our historical ways of working. It is centred around our core purpose: helping to heat homes sustainably. This reflects our vision of the significant role we can play in facilitating the transition to a low and zero carbon heating industry.
Our framework sets out our approach to delivering our business strategy whilst also delivering on our sustainability commitments to stakeholders and the environment. Fit for the Future comprises two strategic pillars. The first, "Driving better environmental performance", will focus us on reducing our impact on the environment whilst also engaging, educating and influencing others throughout the value chain to achieve an effective transition to the low and zero carbon heating systems of the future. The second, "Enabling an exceptional workforce", helps our people contribute positively to the delivery of our strategy and our sustainability objectives.
Finally, our sustainability strategy is underpinned by strong governance, exceptional safety standards and effective oversight of supply chain management, which are the structural foundations for achieving our objectives.
Market participants expect a gradual shift away from current heat source technologies, with hydronic systems likely to remain the long term winners beyond 2030.  We have been proactive in introducing and promoting products compatible with low carbon, low temperature heating systems such as heat pumps. We expect that the future of European heating will provide a clear opportunity for higher sales values and increased profitability for the Group.
1.

Radiators are a valid and cost effective heat emitter solution for low temperature systems

2.

We are producing higher heat output radiators compatible with low temperature systems

3.

As decarbonisation initiatives vary by country based on regulation and preference of heat source, we continue to develop our product portfolio

4.

EU countries advancing the decarbonisation agenda through strong regulation and policies

5.

Further regulation inevitable given the contribution of heating to CO² emissions

6.

UK & EU markets targeting net zero by 2050, with a 55% reduction from 1990 levels by the end of 2030